Microsoft Certified Solutions Developer (MCSD)
The MCSD for Microsoft .NET credential is the top-level certification for advanced developers who design and develop leading-edge enterprise solutions and applications, using Microsoft development tools and technologies as well as the Microsoft .NET Framework.
The MCSD credential is one of the most widely recognised technical certifications in the industry. By earning the premier MCSD for .NET credential, individuals demonstrate that they have the skills necessary to lead organisations in the successful design, implementation, and administration of business solutions with Microsoft products. More
Our message to you is clear; Complete satisfaction or your money back.
Try our full course for 7 days with NO obligation or long term contracts.
Pass your exams, guaranteed.
Get the latest courses to instantly improve your value, included FREE.
Receive 24/7 Support with qualified trainers.
Fast Track through the course with your existing knowledge
14 Day 100% No Quibble Money Back Guarantee.
Are you new to IT?

Those that are new to the IT industry or are looking change or start a new career you will be interested to find out the MCSD may not be the best course to start with. Our Career Packages now offers you a job guarantee and offers the best value for those looking to start in IT.

Or you can get free careers advice by calling 08000 213 213


We also offer a range of MCTS courses that cover .NET 2.0 and 3.5, for more information on these courses follow this link; MCTS
Examples of MCSD job titles include:
| | |
| --- | --- |
| | Software Engineer |
| | Software Development Engineer |
| | Software Architect and Consultant |
What's the salary for an MCSD?
The MCSD certification will help to increase your value in the workplace and qualify your IT skills. With a couple of years experience you would expect to earn £40-50k and the average wage for a MCSD in the UK is £41,481 (www.itjobswatch.co.uk)

Around 90% of UK companies use Microsoft technologies to run their businesses, making Microsoft certifications the most valuable and recognised in the industry. For more information on salaries and the job opportunities an MCSD certification will lead to click here.
How long to study for MCSD?
Candidates are required to pass four core exams and one elective exam. The core exams provide a valid and reliable measure of technical proficiency and expertise in developing and maintaining enterprise applications that are based on Microsoft development tools, technologies, and platforms. The elective exam provides proof of expertise with a specific Microsoft server product.
Study times will vary depending on the students experience and ability, and whether they study the C# or VB track, for accurate study times please see the course outlines below.
For more information on study times please click here
What courses do I need to study?
You are required to pass four core exams and one elective exam
Core
One Web Application Development
One Windows Application Development
One XML Web Services and Server Components Development
Solution Architecture (One Exam Required)
Elective
Bonus Courses Included with this Package
| | |
| --- | --- |
| | 6 hour(s) |
| | 28 hour(s) |
| | 8 hour(s) |
| | 10 hour(s) |
How does our learning system work, guarantee results and save you money?
Our courses are presented through the internet and use the latest technologies to deliver a multi level presentational course. By using this web based technology, that simulates hardware, we are able to offer you a more cost effective learning platform.
We send you a user name and password and you will get unlimited access for the subscription period purchased. With your login details you are free to access the course from any PC with an internet connection, there are no downloads or software to slow your PC down.
You study one subject at a time and have the option to take skill assessments to fast track through the course. At the end of each subject, the course will test your knowledge and then present the next part of the course. If you need to you can go through the sections of the course as many times as you need to.
If you do get stuck or need help, you can ask unlimited questions through our instant mentoring support system. We have qualified trainers online 24/7 to guide you through the course and answer your questions.
Our certification courses will give you everything you need to pass the regulated exams, and even prepare you with exam questions and real world simulations. Once you have completed the course, let us know and you have one final test to complete to benefit form our Exam Pass Guarantee.
More information and to try the MCSD for free click here
Our online study package includes;
Flexible online course

that can be studied any time, anywhere.

Flash-based instructional demonstrations

applying course concepts to help students understand networking topics

24/7 Online mentor support

with qualified trainers – ask unlimited questions day or night

Real time exam preparation guides

– practice tests to make sure you pass your exams

Exercises

that allow learners to practice in the actual application being studied

Supplied sample files

include sample documents, application files, programs, and programming code that enable learners to practice with these files, enhancing the learning experience

Courses challenge the learner with a variety of question formats

, including multi-step simulations, true/false, multiple choice, and fill-in-the-blank. All helping to speed up the learning process

Find-A-Word

allows learners to look up an unfamiliar term in the Glossary, on the Web, or in a dictionary. In addition, it lets them find other occurrences of the term in the same course.

Instructional audio with graphics

highlighting key points.

What our other customers think.
" When I took over the IT department at Burns Pet Nutrition I was given a lot of responsibility. Obviously this responsibility required a certain level of knowledge, some of which I did not have. After a lot of searching on the internet for an appropriate and cost effective way to get the training required in order to carry out my tasks I came across Microsoft Certification. It did not take long to decide that the methods of learning described were ideal for me. I could do the course at work or at home, in my time and at any time. The course material is easy to use and easy to access and keeps you aware of your progress. Plus the tutors answered all of my questions, quickly and accurately.
So far everything is as I would expect from an online course, just what I wanted.
Thanks "
Mike Howles, www.burns-pet-nutrition.co.uk
" The initial conversations with the account manager was helpful in determining the best course to meet my needs, providing clear details of the course content and costing.
Once the account was open, accessing the system has been easy and the support has been responsive and helpful. The course documents and workflow was very easy to follow and helped guide me through the subjects.
Regards "
Tony , Fusion People

By contact us today we will show you how to;
Start with a no-obligation free trial
Instantly improve your value in the workplace and to customers
Accelerate your study time with your existing knowledge
Use our easy to follow, simulation based courseware.
Pass your exams, Guaranteed!
We have trained course advisors that will assist you in finding the right course. Assessing your current skills and showing you how our training will help you reach your career goals. Find out how our system works and will benefit you immediately, and how you can get started today on a free trial!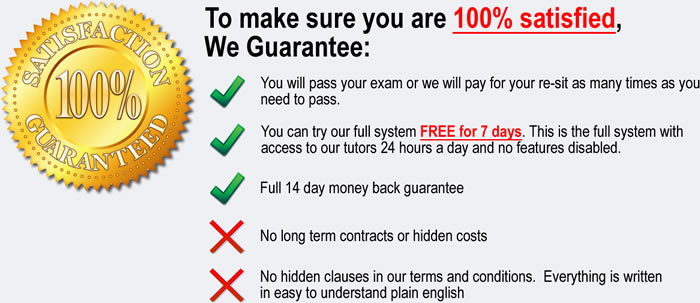 Complete your details in the form below and we will show you exactly how our online training and careers system works.
Microsoft Certification © 2008.
Please Note: We are not Microsoft. We are a training company that provides training materials and classes to gain your Microsoft certification.